NO ACCESS WITHOUT CONSENT
HEREDITARY LEADERSHIP
Wet'suwet'en House Chiefs have continuous and full jurisdiction over Wet'suwet'en territory since time immemorial and must provided free, prior, and informed consent to industry to do work on Wet'suwet'en lands. Therefore, any forced access to Wet'suwet'en lands is considered trespass.
"The Wet'suwet'en fought for many years in the Delgamuukw-Gisday'wa court case to have their sovereignty affirmed by Canadian law. In 1997, the Supreme Court of Canada ruled that the Wet'suwet'en people, as represented by their hereditary leaders, had not given up rights and title to 22,000 square kilometers of Northern British Columbia."
The 1997 Supreme Court of Canada ruling in the Delgamuukw/Gisdaywa court case affirmed that Wet'suwet'en title, based on the traditional clan governance system, has never been extinguished.
Our Governance
Each House Group has a House Chief (Dini ze or Ts'ake ze') and supporting chiefs who assist in decision making and hold advisory roles. The House Chiefs are the representatives on behalf of the House, and the 2-3 House Chiefs within the clan, collectively, represent the entire Clan.
Wet'suwet'en decision-making requires the collective House Group Dini ze' and Ts'ake ze' to discuss important matters and come to consensus. All territory decisions must be ratified in the bahlats (feast hall). Supporting Chiefs do not have the authority to speak on behalf of the entire clan. Nobody can speak on behalf of other Clan territories.
GIDIMT'En CLAN
Gidimt'en is one of the five clans of the Wet'suwet'en Nation, and have full jurisdiction under our law to control access to our territory - which is also supported by the UNDRIP Article 26.2:
"Indigenous Peoples have the right to own, use, develop and control the lands, territories and resources that they possess by reason of traditional ownership or other traditional occupation or use, as well as those which they have otherwise acquired."
No Trespass
The Federal and Provincial Governments must affirm Wet'suwet'en 'anuc niwh'it'en (laws) and title, by acknowledging the full jurisdiction of the Hereditary Chiefs. Provincial and federal governments do not have the authority to grant permits to industries with interest on Wet'suwet'en lands.
Under the United Nations Declaration on the Rights of Indigenous Peoples, Article 10 states:
"Indigenous Peoples shall not be forcibly removed from their lands or territories."
This includes RCMP, and/or military removal of Indigenous Peoples occupying their territory.
Coastal Gas Link Pipeline
The Wet'suwet'en people, under the governance of their hereditary chiefs, are standing in the way of the largest fracking project in Canadian history. The Coastal Gas Link pipeline (CGL), owned by TC Energy (formerly TransCanada) aims to connect the fracking operations of Northeastern B.C. with a Liquefied Natural Gas (LNG) facility in the coastal town of Kitimat.
This export terminal, called LNG Canada, is owned by a consortium of multinational oil giants (Shell, PetroChina, Petronas, KOGAS, and Mitsubishi). Although there are propaganda attempts to lead citizens to believe that this 41 billion dollar investment is inevitable, the global market for LNG is unstable, and there are several countries currently established in this extremely competitive market.
CGL is the first of many proposed pipelines attempting to cut across the Wet'suwet'en traditional territories. If built, it would expedite the construction of subsequent bitumen and fracked gas pipelines, and create incentive for gas companies to tap into shale deposits along the pipeline right of way. This project aims to blaze a trail, in what has been envisioned as a "energy corridor" through some of the only pristine areas left in this entire region. If CGL were to be built and become operational, it would irreversibly transform the ecology and character of Northern B.C.
All Wet'suwet'en Clans have rejected the Coastal Gas Link fracked gas pipeline because this is our home. Our medicines, our berries, our food, the animals, our water, our culture are all here since time immemorial. We are obligated to protect our ways of life for our babies unborn.
image by @photobracken | January 7th 2019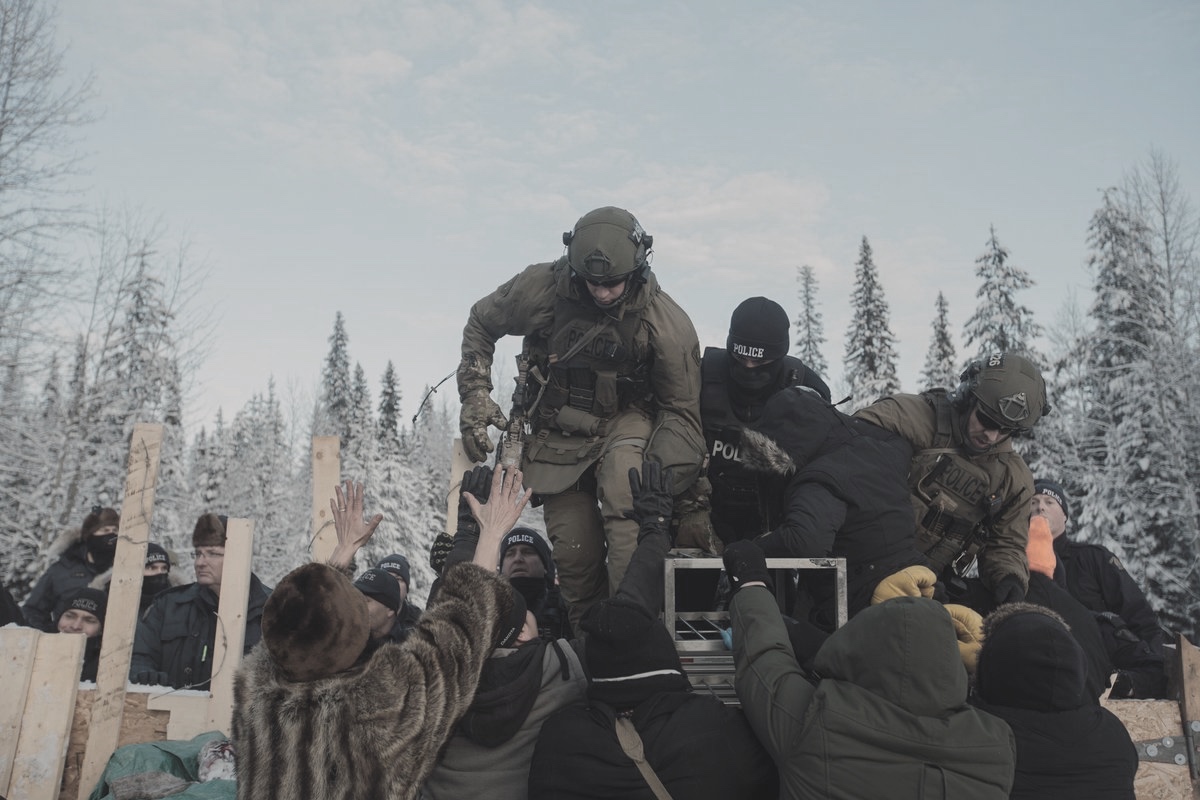 ONgoing colonialsim
On December 2018, the B.C. Supreme Court issued a court injunction that authorizes the RCMP to forcibly clear a path through the Wet'suwet'en Access Point on Gitdumden territory and the Unist'ot'en homestead on Unist'ot'en territory. This is despite the fact that the Supreme Court of Canada ruled in the landmark 1997 Delgamuukw-Gisday'wa case that the Wet'suwet'en, as represented by their hereditary leaders, had not given up rights and title to their 22,000 square kilometers of land. Members of the RCMP met with Hereditary Chiefs in January 2019 and indicated that specially trained tactical forces will soon be deployed.
"Canada knows that its own actions are illegal," states the Wet'suwet'en Access Point on Gitdumden territory. "The Wet'suwet'en chiefs have maintained their use and occupancy of their lands and hereditary governance system to this date despite generations of legislative policies that aim to remove us from this land, assimilate our people, and ban our governing system. The hereditary chiefs of the Wet'suwet'en and the land defenders holding the front lines have no intention of allowing Wet'suwet'en sovereignty to be violated."
On January 7, 2019, the Royal Canadian Mounted Police trespassed on the land of the Wet'suwet'en people and arrested 14 land defenders in heavily militarized fashion, following the orders of fossil fuel behemoth TransCanada to enforce the injunction.
We demand that the provincial and federal government uphold their responsibilities to the United Nations Declaration on the Rights of Indigenous Peoples by revoking the permits for this fracked gas pipeline that does not have consent from any Wet'suwet'en Clan. The federal government, provincial government, Coastal Gas Link/TransCanada, and the RCMP do not have jurisdiction on Wet'suwet'en land.
Since January 7th, the Rcmp and Coastal Gas Link have proceeded to violate Wet'suwet'en and Colonial Canada's laws.
Here is a timeline of activities on gidimt'en lands
RCMP Illegally Occupy Gitdumt'en Territory
RCMP have invaded and occupied our territory and are working to establish a police detatchment on Gidumt'en territory without the consent of our people.
RCMP Stands by as CGL Destroys Buildings Owned by the Gidimt'en Clan
Coastal GasLink willfully, illegally, and violently destroyed Gidimt'en cultural infrastructure and personal property on Gidimt'en territory. Coastal GasLink's attack on our cultural practices - with RCMP's active complicity - is an attack on our sovereignty and an attack on our way of life.
Gidimt'en Access Checkpoint has been reclaimed!
Gidimt'en reoccupied the space where Wet'suwet'en have lived and gathered, to engage in sustainable practises on the land for generations. This site is a cultural heritage site which has always focused on harvesting practices like trapping, hunting, and fishing in the river and creek for lamprey eels and other territory foods.
Hide Tanning Workshop is held in Gidimt'en Lands
We are still here. We tanned hides here today - camped around the river and creek area. We utilize and protect the creek - as it is our life source. We will always be here. We will continue to protect our life source - as it sustains us, our neighbours, and generations to come.
Civil contempt charges dropped against the 14 arrested in raid on Gidimt'en Land
All contempt charges have been dropped against 14 people who were arrested at a blockade in northern British Columbia in January for barring access to a pipeline company.